Winspear Opera House | Dallas, Texas
"Pop! Six! Squish! Uh-uh! Cicero! Lipschitz!"
You heard that right! We are pleased to announce that the Broadway production CHICAGO is once again making its way to the Winspear Opera House on Thursday, the 4th of April, 2024.
Chicago has broken records and is now the longest-running Broadway production of all time. Since it was first revived by Broadway in 1996, audiences can't seem to shake off the razzle-dazzle of the glamorous production of Chicago. With six Tony Awards, two Olivier awards, and a Grammy Award for "Best Musical Show Album," you will not be able to resist singing and dancing along to the fantastic production.
The outstanding musical is always sold out by newcomers and people looking to rewatch the production. If you had seen Chicago, I bet that you would have done the same. 😉 Buy your tickets right now before it's too late!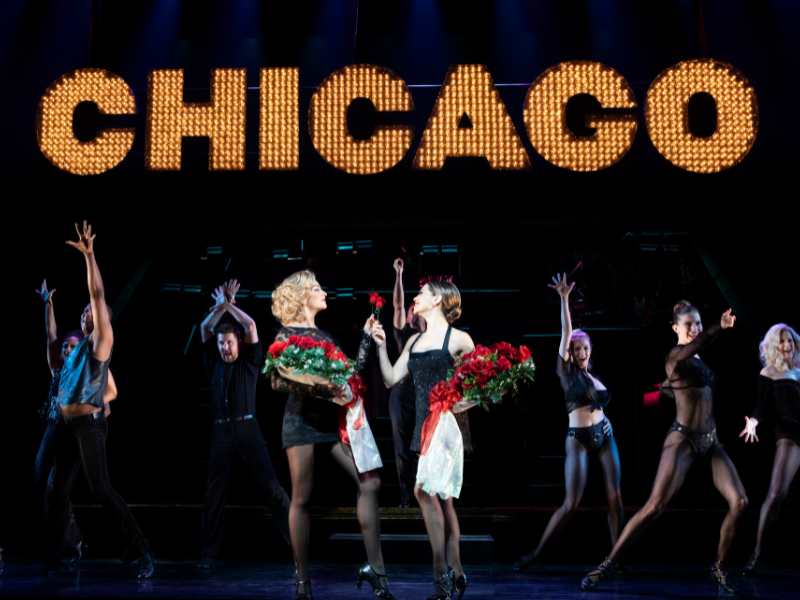 Everyone who has seen Chicago knows that the musical production offers outstanding stage performances of jazz tunes that you can't get out of your head. It is said that the secret to this musical's record-breaking success lies largely in the music by John Kander and Fred Ebb.
John Kander explained how they wrote the hit "Razzle Dazzle," and he said, "I remember when we wrote "Razzle Dazzle" before we took it in and played it for Bob, you [Fred Ebb] said with absolute confidence 'Try adding a couple of finger snaps to it. Bobby will love that.' We added them…and as soon as he heard the finger snaps, he loved the song." During rehearsals, "Razzle Dazzle" was originally staged as an orgy on the steps of the courthouse. Fosse was talked out of allowing this staging when Orbach "convinced him that he was missing the Brechtian subtlety intrinsic in the number.""
The song "All That Jazz" opens up the musical with a lively performance. Popular Culture: Introductory Perspectives said that the song encapsulates the "importance of jazz in the constitution of pop culture." They described it as a "cynical comment on the willingness of humans…to act solely, simply, and remorselessly in their own interest."
Another memorable song from Chicago is part of the opening act, "Cell Block Tango." As Roxie Hartt enters the Cook County Jail, six women explain their presence in the jail, all of whom stand accused of killing their significant others. The lines "he had it coming" are everso present in the entire performance, where all six women feel no remorse over their crimes. The song has been covered by several shows, including Glee. "Cell Block Tango" is a classic and timeless jazz tune that will tickle your hidden love for jazz music.
It is undeniable that Chicago turns everyone into jazz lovers with its fantastic songs and ever more fantastic performers. This is your chance to witness Chicago at the Winspear Opera House on Thursday, the 4th of April, 2024, for an unforgettable night of good music and stellar vibes.
Buy your tickets today to get the best seats in the house. Click on "GET TICKETS" to complete your purchase.