Winspear Opera House | Dallas, Texas
Are you looking for a family bonding activity this holiday season? Don't fret because Cirque Musica: Holiday Wonderland is the perfect event to watch with your family, and you can catch them at the Winspear Opera House on Saturday, December 23, 2023!
Cirque Musica is bringing the magic with their Holiday Wonderland production! Watch the circus performance of Cirque Musica: Holiday Wonderland as they walk you through the story of Caroline in a magical holiday land that will surely amaze you and your family! They are a group of circus performers known for their stunning acrobatic and aerial stunts; Cirque Musica promises an incredible performance as they gracefully swing and glide to the tune of your favorite holiday songs such as "Oh Holy Night" and "12 Days of Christmas"!
Don't miss out on witnessing this spectacular production, and bring your whole family to watch Cirque Musica: Holiday Wonderland! Book your tickets now!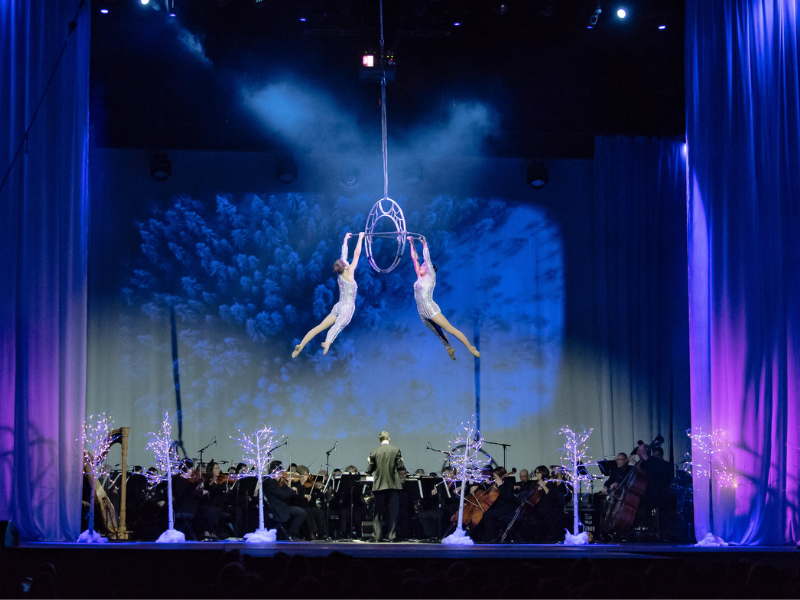 Cirque Musica is calling all families to celebrate and join our tradition this holiday season with the Holiday Wonderland production at the Winspear Opera House on Saturday, December 23, 2023!
Cirque Musica is one of the top cirque-style shows in the US, and the ensemble has been delivering world-class circus performances since its foundation in 2010. The group is known for their themed acrobat performances that feature their own story and music, such as "Rhapsody", "Heroes and Villains", "Symphonic", and of course, "Holiday Wonderland".
Among Cirque Musica's themed productions, the Holiday themed shows have always been the most popular and anticipated. With the release of their latest Holiday-themed production, "Holiday Wonderland, kicking off last December 2022, the President of TCG Entertainment, Stephen Cook, says that "Cirque Musica's holiday-themed productions have become a seasonal tradition for many families in the US, and we are excited to continue that tradition with Holiday Wonderland."
This production follows the story of a woman named Caroline, a CEO of a big company and tired of the hustle and bustle of her life. Caroline visits her aunt and uncle during the holidays and finds herself transported and living the story of her favorite holiday book "Wonderland". Caroline then finds herself in a problem; she has to choose between being in charge of the spirit of the holidays or returning to her hectic life as a CEO. She then realizes she can inspire and keep the holiday spirit alive while still being a big company CEO. Talk about being a girl boss!
Cirque Musica will be telling this story by performing death-defying stunts and masterful choreography, combining grace and danger to create this masterpiece of a performance. This production will also feature your favorite holiday hits, such as "Oh Holy Night" and "Twelve Days of Christmas", and a specially crafted stage that embodies the spirit of the holidays with beautiful snow effects!
Broadway World describes the show, "Holiday Wonderland blends the spellbinding grace and daredevil athleticism of today's greatest circus performers with a lively musical mix of everyone's favorite holiday carols."
The holidays are indeed for love and family, so what better way to celebrate them than bringing your family to watch Cirque Music: Holiday Wonderland? Join us in this holiday tradition and book your tickets now!